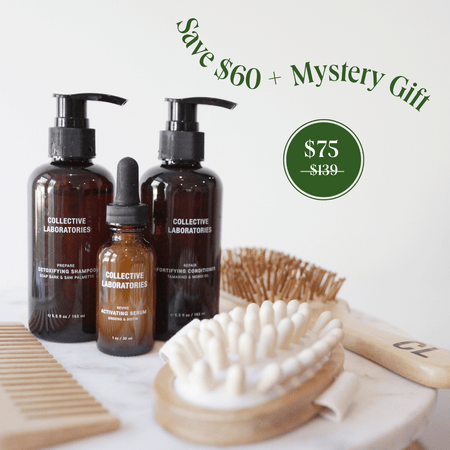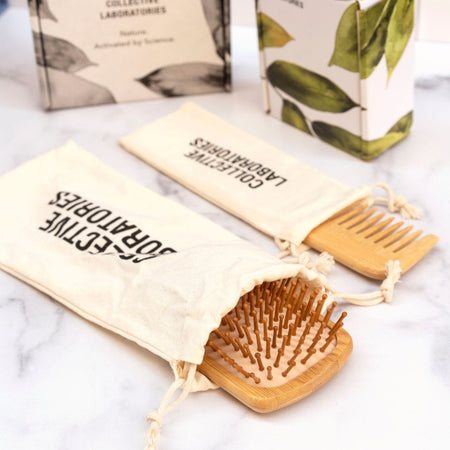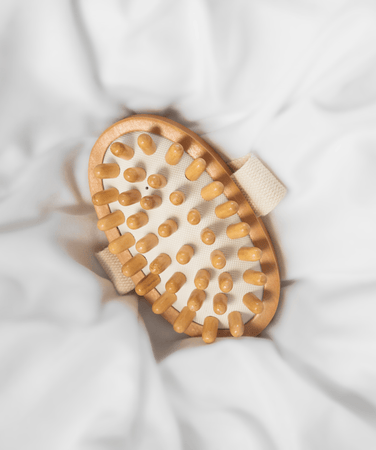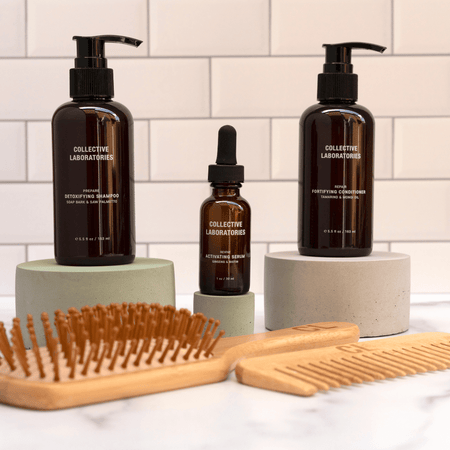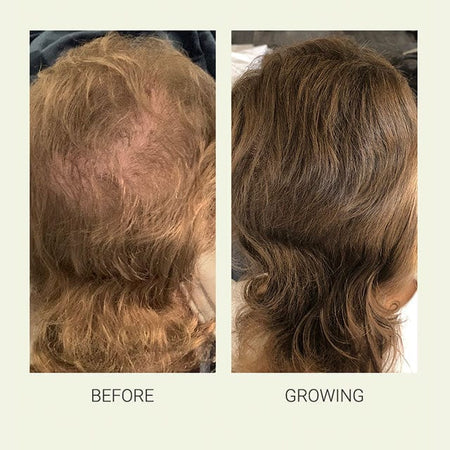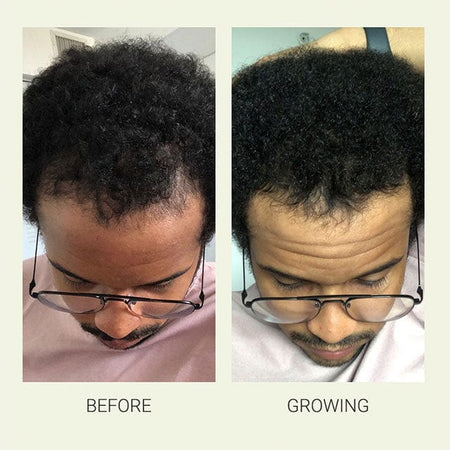 Bundle includes: Activating Serum, Detoxifying Shampoo, Fortifying Conditioner, Scalp Massager, Bamboo Brush & Comb + MYSTERY GIFT
Give your strands what they need to survive the Summer heat with this exclusive Summer Strands Bundle. 
All products in this bundle work in together to protect your strands from UV and humidity, balance oil production, and soothe an itchy, dry scalp....while promoting scalp health and hair growth.
ACTIVATING SERUM
Start with a dry or towel-dried scalp.
Using a full dropper of Serum, disperse the Serum across the entire scalp a few drops at a time.
Massage with your fingertips and rinse hands.
The active formula may create a warming sensation which should dissipate within a few minutes.
To boost volume, blow-dry after application.
Apply daily.
Caution: For external use only. Avoid contact with eyes.
DETOXIFYING SHAMPOO
Apply a quarter-sized amount to wet hair and gently massage into the scalp to build a lather.
Work the foam through the ends of the hair.
Rinse thoroughly.
Follow with Fortifying Conditioner.
FORTIFYING CONDITIONER
After shampooing, apply a quarter-sized amount to hair, focusing on the ends.
Leave in for 1 - 2 minutes to allow the active ingredients to penetrate the strands.
Rinse thoroughly.
SCALP MASSAGER
Hold the massager in your palm and press the massage tips to the scalp with gentle pressure.
Move the scalp massager in small circular motions.
Avoid large circular motions as it might promote tangling.
Use on dry hair after application of Activating Serum.
ACTIVATING SERUM
WATER (Aqua), GLYCERIN, POLYGLYCERYL-10 CAPRYLATE, [PANAX GINSENG ROOT EXTRACT (Ginseng), ARGININE, ACETYL TYROSINE, ARCTIUM MAJUS ROOT EXTRACT (Burdock Root), HYDROLYZED SOY PROTEIN, CALCIUM PANTOTHENATE, ZINC GLUCONATE, NIACINAMIDE, CITRULLINE, ORNITHINE HCL, GLUCOSAMINE HCL, BIOTIN] (Trichogen), SYRINGA VULGARIS LEAF CELL EXTRACT (Lilac Stem Cell), CUCURBITA PEPO SEED OIL (Pumpkin Seed), CITRUS AURANTIUM BERGAMIA FRUIT OIL (Bergamot), PTEROCARPUS MARSUPIUM BARK EXTRACT (Malabar Kino Bark), AVENA SATIVA BRAN EXTRACT (Oat), VANILLYL BUTYL ETHER (Hotflux), ETHYLHEXYLGLYCERIN, PANTHENOL, SORBITOL, DISODIUM SUCCINATE, GLUTAMIC ACID, PHENETHYL ALCOHOL, XANTHAN GUM, PROPANEDIOL, HYDROLYZED VEGETABLE PROTEIN, CAPRYLYL/CAPRYL GLUCOSIDE, CITRIC ACID
DETOXIFYING SHAMPOO
WATER (AQUA), LAURYL GLUCOSIDE, COCAMIDOPROPYL HYDROXYSULTAINE, GLYCERIN, CAPRYLYL/CAPRYL GLUCOSIDE, QUILLAJA SAPONARIA WOOD EXTRACT (Soap Bark), SERENOA SERRULATA FRUIT EXTRACT (Saw Palmetto), SYRINGA VULGARIS LEAF CELL EXTRACT (Lilac Stem Cell), CUCURBITA PEPO SEED OIL (Pumpkin), ARGANIA SPINOSA KERNEL OIL (Argan), CITRUS AURANTIUM BERGAMIA FRUIT OIL (Bergamot), HYDROXYETHYLCELLULOSE, HYDROLYZED JOJOBA ESTERS, GLYCERYL OLEATE, COCO-GLUCOSIDE, SODIUM LAUROYL SARCOSINATE, POTASSIUM SORBATE, SODIUM BENZOATE, CITRIC ACID
FORTIFYING CONDITIONER
WATER (Aqua), CETEARYL ALCOHOL, BEHENYL ALCOHOL, GLYCERIN, PLUMERIA ACUTIFOLIA FLOWER EXTRACT (South Pacific Monoi), TAMARINDUS INDICA FRUIT EXTRACT (Tamarind), SYRINGA VULGARIS LEAF CELL EXTRACT (Lilac Stem Cell), ACACIA CONCINNA FRUIT EXTRACT (Shikakai), COCOS NUCIFERA (Coconut) OIL, CARYOCAR BRASILIENSE FRUIT OIL (Rainforest Pequi), PTEROCARPUS MARSUPIUM BARK EXTRACT (Malabar Kino Bark), CITRUS AURANTIUM BERGAMIA FRUIT OIL (Bergamot), ETHYLHEXYLGLYCERIN, SORBITOL, CETRIMONIUM CHLORIDE, HYDROXYETHYLCELLULOSE, GUAR HYDROXYPROPYLTRIMONIUM CHLORIDE, COCO-GLUCOSIDE, GLYCERYL OLEATE, GLYCERYL STEARATE, DISODIUM SUCCINATE, TOCOPHEROL, GLUTAMIC ACID, HYDROLYZED JOJOBA ESTERS, PROPANEDIOL, PHENOXYETHANOL, GLYCOL DISTEARATE, HYDROLYZED VEGETABLE PROTEIN, CITRIC ACID
Sulfate-Free | Paraben-Free | Vegan | Gluten-Free
Cruelty-Free | Dermatologist Approved
Powerful results
Our customers have a lot to say!
Before
Growing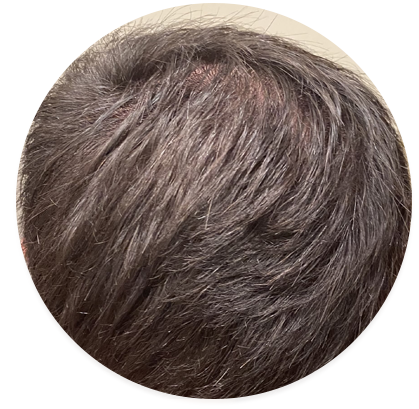 Iggy
"I've been using it for 4 months and my hair is GROWING back - and so is my confidence!"
Before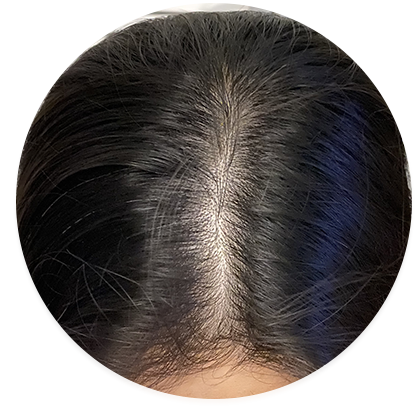 Growing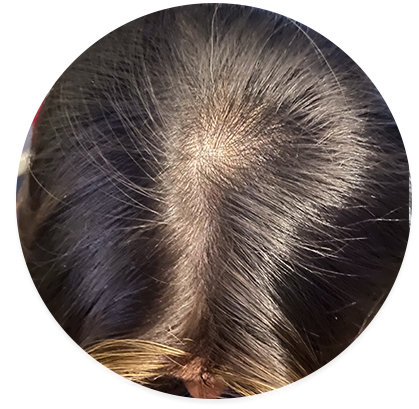 Dana
"The level of thickness and regrowth exceeded all of my expectations"
Before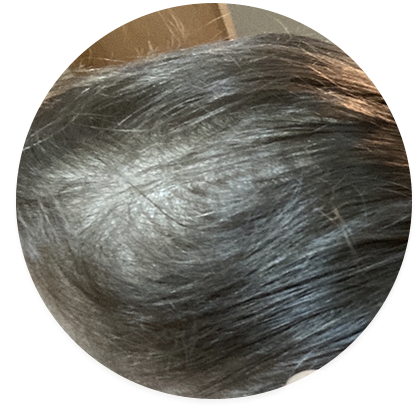 Growing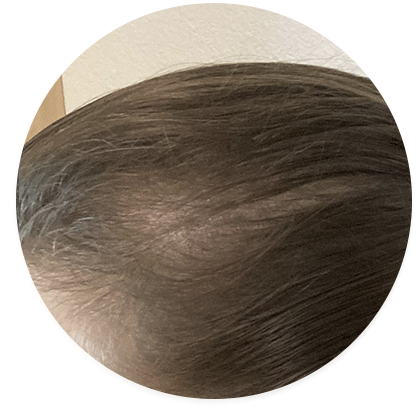 Charlotte
Consistency is key! Happy with my results.
Before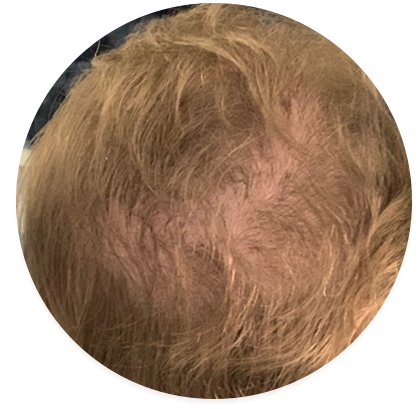 Growing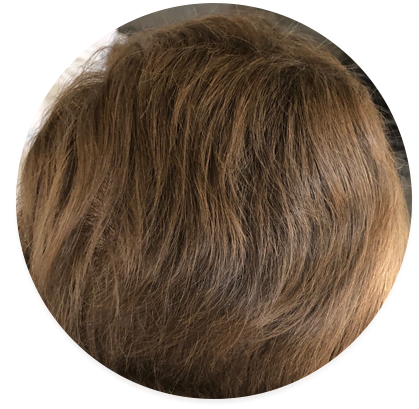 Kendall
The Collective Labs serum has been a total game changer!
Before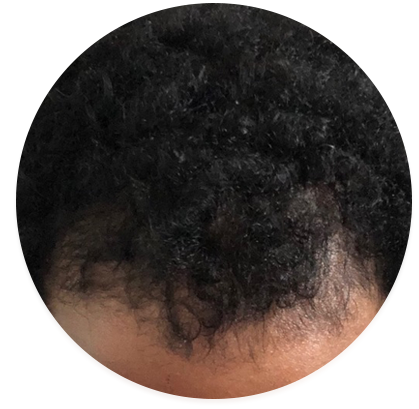 Growing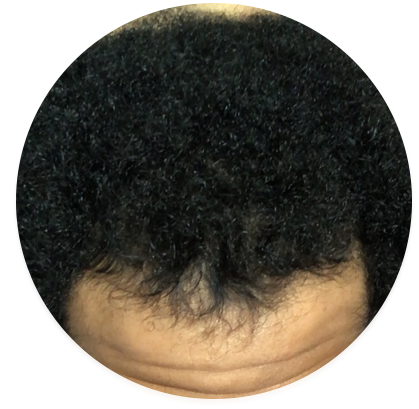 Edward
"This product is legit. Just look at the 4 month update pic!"
Before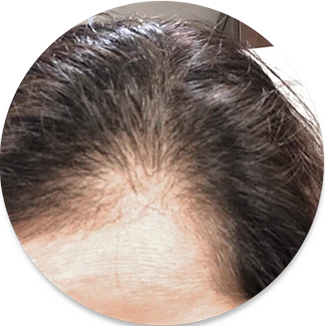 Growing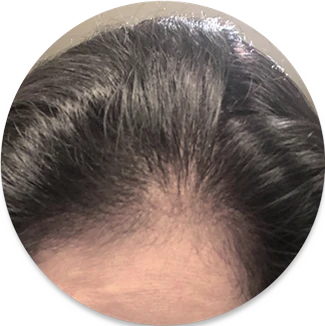 Khiven
"Shocked at the difference"
Before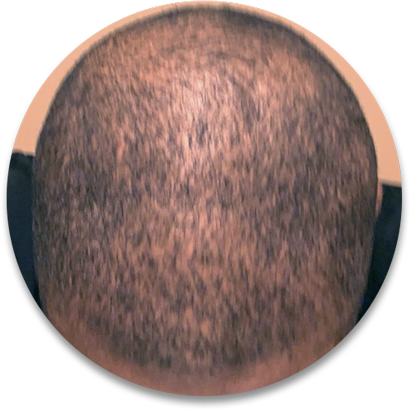 Growing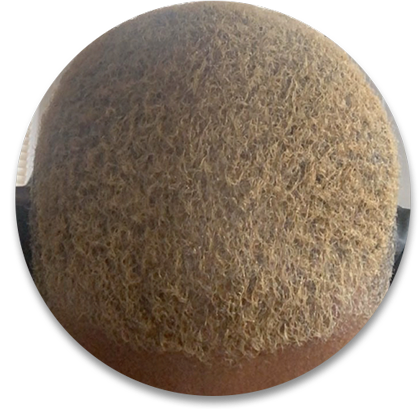 Kris
"Growing back full after so much damage"
Before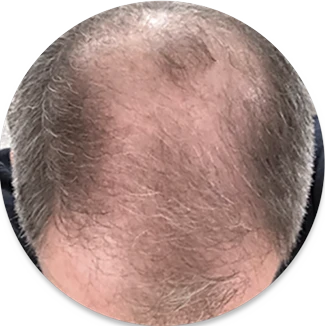 Growing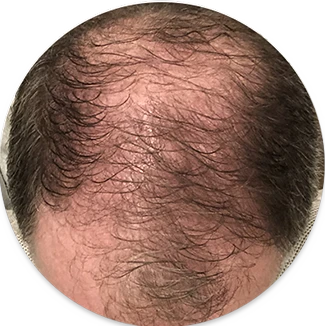 Mike
"Great growth after 3 months"
Before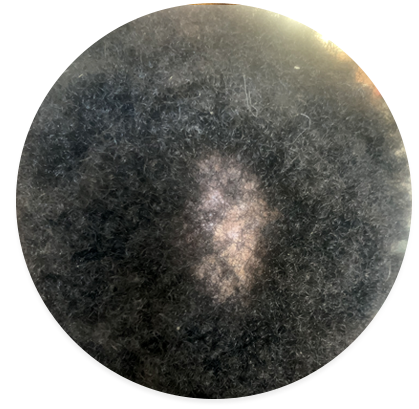 Growing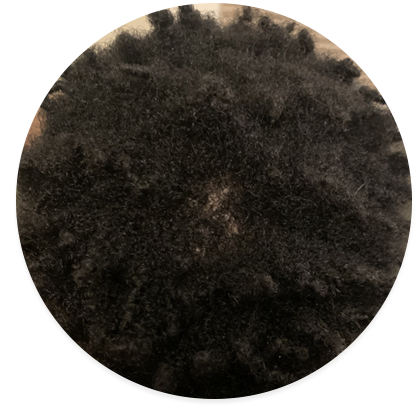 Reiss
"I was amazed by the results!"
Learn More About Our Results
Meet Our Medical Advisory Board
We work with a lot of exceptional and thoughtful people—like the dermatologists, chemists, and medical doctors on our Medical & Scientific Advisory Board, who help guide our product innovation and research.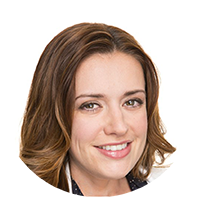 Shala Fardin, MD Board-Certified Dermatologist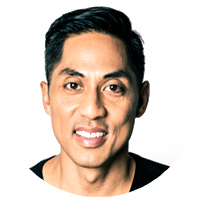 Dominic Patawaran, MD Board-Certified Physician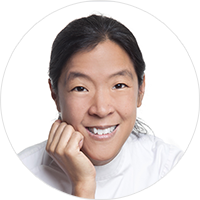 Cecilia The, O.M.D. Doctor of Eastern Medicine
Chat with a scalp wellness expert now
We're here for you. Our team is on standby Monday - Friday from 10am -4pm PST.
Book now
We want you to ask questions
Our scalp wellness experts have the answers you need.
Is Activating Serum safe for women and men?
While the underlying causes of hair thinning can be different for men and women, everything we make here at Collective Laboratories is designed to work for all people–regardless of gender.
I'm not currently losing hair, but I want to prevent it. Will this help?
Yes! Prevention is the most effective measure that you can take against thinning hair. The active botanicals and science-backed ingredients in Activating Serum help nourish your scalp and maintain follicle health. With regular use, Activating Serum helps maintain your hair's normal growth cycle.
Why is this a subscription?
You wouldn't use an anti-aging cream once and expect to see results, right? The same goes for your hair. Consistency is key when it comes to supporting the health of your scalp and strands, and it's the little steps you take every day that really make a difference.That's why we decided to offer Activating Serum in a subscription – so it's easier to continue supporting your hair every day.
When will I start seeing results?
Activating Serum starts working immediately, but it can take up to three months for you to see noticeable results simply because it takes a while for your hair cycle to respond to treatment. Patience and consistency are key; new hair doesn't happen overnight.
Where are your products made?
We source ingredients from around the world, but we make our products in our lab in California.
Can I use these products if I'm also using prescription hair loss medication?
Yes, our products work with internal prescription hair loss medications like finasteride and topical medications like minoxidil. If you are using other topical medications, please check with your doctor first before layering treatments.